---
If your animals could speak, what would they say?

---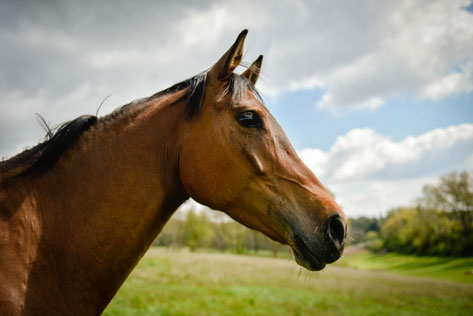 As an animal communicator, I am often approached by worried owners who want to clarify a situation with their horse, resolve a problem, improve the horse's well-being, as well as understand behavioural and emotional patterns. They are also in search of practical and concrete suggestions and solutions.
I am able to connect with the horse and retrieve information which is not obtainable simply by deduction or by a good understanding of animals. The evidence of this ability lies in the animals I have helped, with both physical and psychological problems.
---
Animal communication helps me to facilitate exchanges between horses and their human partners, to bring support during difficult times (change, relocation, separation, death) and to answer such questions as :
Why the sudden change of attitude ?
Why the reaction to the mounting block, the saddle?
Does my horse like to be mounted?
Is he in pain?
Was he badly treated in the past?
Why does he stress for no apparent reason?
What is provoking his colics?
How are journeys in the horse truck?
How can I help him to adapt to his new environment?
What does he think about his lifestyle?
Is he happy?
Does my horse have something he wants me to know?
---
Animals communicate with us all the time, sending us hundreds of messages either autonomously, or in response to our requests.
These non-verbal messages are of a physical nature and draw on the five senses: sight, hearing, touch, taste, and smell. They are therefore visible and objective, noticeable by all.
But this is not all. Other types of non-verbal communication also take place on a regular basis; we pick them up in the form of perceptions, intuition and feelings. It is at this level that animal communication comes in, deciphering and facilitating the exchange of intuitive and extra-sensory insights and awareness (i.e. outside of the five senses).
Animal communication is different to the type of communication that we are typically used to. This is despite the fact that intuitive communication is part of our make-up, just like the ability to see or to hear.
Animal communication is connecting with the inner voice or the animal, a tool to better understand your horse.
---
Consultations can be either general in nature, or deal with specific topics such as health issues, behavioral problems, problems related to a change of place of residence, emotional trauma, etc. Whether you need a specific or full consultation with your pet, you will be asked to provide a photograph as well as other basic information. After the communication, I will give you a detailed report to help you understand your horse's point of view and think together on possible solutions.
Since 2004, I have followed various trainings in telepathic communication with animals in Europe and the USA. I then obtained my professional certification from Amelia Kinkade. I would like to thank her for the unique expertise she imparted to me within her training institute "The Language of Miracles".
Completing my certification with her has been a powerfully enriching and continually inspiring experience.
Amelia Kinkade is one of the best animal communication teachers in the world. She is the author of six books, including "Straight From The Horse's Mouth", "The Language of Miracles" and "Whispers of Nature". She is the founder of ArK Angel Society, a non-profit educational organization that visits schools in Zambia, Rwanda and South Africa to learn about the dangers of poaching.
---
At your stable I come to your stables from my home in Hoeilaart, Flemish Brabant (BE)
Listening to your horse
Module which aims to make an inventory of the physical, emotional and mental state of the horse; how he feels in his environment, what he wants to communicate to his human partner ...
Discovery session of animal communication for people who want to know this approach: curiosity and enthusiasm.
Price: Eur 80.
Solving problems or difficulties
Module which aims to respond to a concern presented by the horse whether it is emotional, mental or behavioral.
Price: Eur 100.
I boost the bond with my horse
Boost your relationship with your horse to create an active and joyful partnership
Price: Eur 90.
Modalities of remote communications:

You send me a photo of your horse by email, specifying its name, age, gender, location and how long you've been together. One photo is enough, preferably with the face highlighted.
If you wish, you specify your questions or you explain to me his behavioral reactions, the situation or situations that require clarification.
Price: from 50 € depending on the time invested and the request received.
The deadline is a few days, except in emergencies.

Payment for the remote communication is requested in advance via bank transfer.

Possibility of receiving an invoice.

I will then send you the report of my communication with your horse by return email.

Bank details:

Anne Thiebauld
ASBL Cadences
Belfius Account
IBAN: BE 19 0689 0378 6312
BIC: GKCCBEBB

My rates are inclusive of VAT. Possibility of receiving an invoice on request.

Deadline:
Please contact me beforehand by email or phone to make a telephone appointment or check the deadline for a written report.
The relationship you have with your pet is personal and intimate. Therefore, it seems essential to me to respect a certain number of rules in my communication practice.
My commitment to you and your animal;
I respect the confidentiality of the information you give me in the context of telepathic communication with your animal.

Likewise, I undertake to respect and honor the information that I will receive from your animal, which implies respecting his right not to want to communicate either on all or certain aspects mentioned during the conversation, rare cases but which may nevertheless occur,

I treat all requests with compassion and not judgment,

I make sure that my attitude is filled with humility, benevolence and integrity. Concretely, this also means that I do not intervene when I am not invited by the owner,

I recognize my physical and mental limits and, if necessary,I call on other qualified professionals,

I do not establish any diagnosis or medical treatment, skills that are the responsibility of veterinarians and the medical field. Animal communication provides insight but is not an end in itself and cannot be considered a scientific approach,

I am looking for positive and pragmatic solutions in the context of the relationship between you and your animal,

finally, I participate in stimulating and developing a better understanding of our relationship to the animal world.
---
---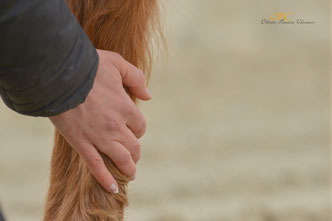 Hands on energy healing to help your horse release deep memory and energy blockages.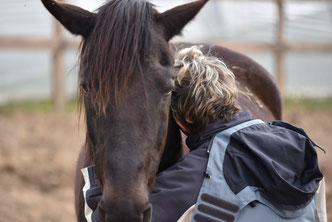 Individual support according to your needs to help you regain confidence in you and in your horse.
Monthly and thematic trainings in equine Reliance. More info soon on the site.
---